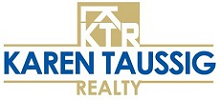 "I am sitting in a house on the sand watching the sun set over the waves in Ventura because of Karen Taussig. We would never have found this, the perfect beach house, without her. She is charming and knowledgeable and, most important, actually listens to what you want as she shows you around. [snip} What's unique about Karen is that she only represents buyers, so there is never any pressure to take one house over another. She answers the thousands of questions a house hunt generates without hesitation. She is a friend and ally. I cannot say enough about her. We loved working with her and feel comfortable recommending her to anyone looking for a house in and around the Channel Islands area." [Jim and Abbie Rich]
"Dear Karen,Just a note to say a huge THANK YOU for helping us find the perfect home. You are a paragon of patience! I can't even count the number of times you took us out to look, even showing my friends the neighborhoods and constantly keeping us updated on availability. I do feel that we became friends over the course of our relationship, and now we feel very lucky to be neighbors, too! You are persevering, resourceful and creative, not to mention a lot of fun to hang out with. You carefully guided us through every step of the process, even finding a great loan officer, inspector and termite repair guy. I sincerely hope that together we will be able to find homes for more of my friends and family in beautiful Ventura County. Sincerely and with unending appreciation, Sherry Nolan Happy resident of Mandalay Bay Village"
"My husband and I have been on the hunt for a property here, since we fell in love with Oxnard and decided to move here from the Palm Springs area. I also happened to meet Karen Taussig, who sent me daily emails of properties on the market, which not only kept me on top of the latest listings, it also kept me informed on what was possible for our budget. Karen promptly responded to my calls and emails. When the "right one" came around, Karen invited us to attend the realtors "caravan" opening. After notifying Karen that we wanted to bid on a Westport condo, she was enthusiastic and put all the players on board to make it happen, against all odds that we could beat out other bidders. With Karen's negotiation skills and warmth, the sellers selected our bid and Karen put the rest of the team into place to successfully complete the process in a timely fashion. We are so happy and appreciative of Karen. There is no doubt in my mind that it would not have come together for us, without Karen Taussig on our side." [Miriam and Robert Stempler]
"We are enjoying being here so much! It was truly worth the wait! I can never say Thanks enough to you for sticking with us through this!" - Beverly [Beverly Skelton and her daughter Rasetra purchased a short sale in the historical district of Oxnard that took 8 months]
"When we looked at buying a house, we signed up for Karen Taussig's services online. Karen was able to help navigate the market at our own pace and comfort zone. She personalized our search to meet our needs and she was able to take us out throughout our preferred neighborhoods showing us houses that fit our needs, desires and our budget! She was very professional, and represented us well. We would go through Karen again for the next home." [Jamie MacFarland and Joe purchased a single story home in Camarillo]
"Dear Karen, Thank you so much for all your help in finding us the perfect condo. you listened carefully to all our needs. you more than went the extra mile. when we identified the complex we wished to live in, you used all your contacts and resources to find us the perfect home . even though the property was not listed, you found a way for us to view the property that you had heard (by the real estate vine), that the owners might be interested in selling. We have been involved in numerous real estate transactions, we have never met a harder working, more cooperative or nicer realtor. Thanks again for everything. Have a happy and successful New Year." Arlene and Jerry. [Jerry and Arlene Davis purchased a Condo on Harbour Island]
"We purchased our retirement home from Karen in October after over a year of looking. It was our first major purchase in over 20 years so we didn't "know the ropes" and got cold feet more than once. Karen was great. She let us take all the time we needed to be comfortable with our decision and stuck with us from the first day of looking in the area thru all the red tape of making the purchase. We love our new place and have Karen to thank for it." -Pam [Pam Halford purchased a boat dock home in Mandalay Bay]
"Dear Karen, Thanks so much for the service you provided to us during our move from Florida to Port Hueneme, California. We contacted you a year or so before we made the move. We spent several days or parts of days with you looking at homes and learning about the area. You were so helpful to us and there was no sale in sight for you. About a year later, I contacted you when we finally received an offer on our home in Florida. We flew to California to spend a couple of days of your time looking and picking the home of our future. We then flew back to Florida to get ready for the mover to pick up our belongings. The purchase was all in your hands. You arranged everything for us. Since you are a buyers agent, only, we left all the final details up to you. You called me often and we burned up the wires with with faxes and emails. You stayed right on top of everything and within a couple of weeks we had sold and bought and moved. All I can say is that having been involved in home improvement and home inspection for over 20 years, I've dealt with many real estate people. Your service by far out strips all that they do. Your care for your buyer is above all others." Dave [Dave and Nancy Hetzel purchased in Hueneme Bay in Port Hueneme]
MORE VIDEO TESTIMONALS


MORE WRITTEN TESTIMONIALS (updated 5/26/2022)

"Karen Taussig went well beyond our expectations in helping us find our forever home. Though not by plan or design, we were not easy clients to work with.
Initially, we thought we knew exactly what style of home and what geographical area we wanted to live. However, in the process of searching, to our own surprise we changed our mind more than once. Because we expanded the geographic area of our search to include San Diego and San Luis Obispo counties, we thought and were expecting that Karen wouldn't be able to continue to represent us. However, she supportively stood by us every step of the way, without complaint.
In addition, we encountered more than one unexpected and uncommon real estate challenge. These included facing a last minute buyer escalation clause, and sellers who predetermined who their buyer would be (their friends) in advance of negotiations. Most stressful and grievous was a transaction that incredibly included undisclosed serious structural issues, and a seller who refused to return our deposit money within our contingency period—and then proceeded to open a second escrow to an unknowing second buyer!
Throughout our real estate adventure, Karen was resourceful and tenacious in obtaining information that helped guide us. She maintained the highest ethical standards in the face of Realtors and sellers who appeared to have questionable unethical behavior. In the end, we found the home that is perfect for us and couldn't be happier with it, and we wouldn't have accomplished this without Karen on our team.
In addition, on a personal level we found Karen to be interesting and enjoyable to work with. We enthusiastically recommend her to help you find your next home."[Ed and Veronica Souza purchased in Nipomo]

"It was a pleasure working with Karen. Her conscientious attention to detail and her "can do" attitude made the challenges we faced in our transaction manageable. Her creativity and solutions-based approach to her listings deliver success to her clients. I enjoyed working with Karen and I will always be grateful for her efforts in our successful transaction. Her efforts made the difference in our success. Harold S. Edwards President & CEO Limoneira Company" [Harold purchased on Hollywood Beach]
"We have bought many properties over the years and I have to say Karen Taussig was the best Realtor we ever had. First, she was very low pressure, never forcing her opinions on us. Second, she LISTENED to what we wanted and narrowed down our search by noting what we liked and disliked about previous showings. This led to the "perfect" property for us. And third, she was very detail oriented during the escrow process. She made a complex exercise very simple by anticipating potential issues and getting ahead of them. We would recommend her 110%! She gets excellent results and is a nice person to boot. Donn and Melinda Conner" [Donn and Melinda purchased on Solimar Beach]
"My wife and I have bought/sold over 10 houses over the years and we have to say that Karen Taussig has been the best real estate professional we have worked with. We recently purchased a home in Thousand Oaks and Karen spent countless hours showing properties and helping us understand the pros and cons of each property. The entire process from selecting a property, going through the purchase and closing process was seamless. We've worked with a lot of realtors and Karen has been the greatest!" Doug and Linda Emerson, Hollister CA
"Karen Taussig is a knowledgeable, professional and caring real estate agent. My husband and I hired Karen as our agent when moving from Texas to Southern California last year. Karen effectively communicated with us promptly via phone and email during our intensive house hunt. She was a pleasure to spend time with and that was important because we were together for long days for 2 - 3 days at a time over a period of several weeks. We were especially pleased with her independent status because she did not try to oversell any particular home. Karen went to great lengths to expedite the purchasing process once it began, meeting us on the way to the airport with completed documents for the first offer and then quickly emailing us documents to sign and fax back. Because we lived out of town, she also represented us when the house was inspected. We highly recommend using Karen Taussig Realty when buying a home in Southern California. Karen makes your house purchase as smooth and stress-free as possible." Kerry and Jay Jacobs [Kerry and Jay bought a beautiful home with fruit and avocado trees and a sweeping panoramic view. Check it out here !]
"This little note is Linda and my heartfelt thank you for putting up with us over a 2 year period while we searched with your help for our perfect beach home in Oxnard. I'm sure you had your doubts about our sincerity, but you nevertheless kept looking and searching for us anyway. While our communication was mostly by email and pictures you were always ready willing and able to go and look at things for us (and knew exactly what we wanted and what we liked and didn't like) so we did not have to keep driving up to Oxnard on "wild goose chases." Once we selected the right property, you enthusiastically assisted and counseled us on preparing our Offer, dealing with Counter-Offers, and helping us consummate the deal with the Sellers. Then you assisted us in selecting the correct Escrow, Title Company, and Inspectors. Even after the Closing you were still there to assist with the upgrades and remediation that the Inspectors found necessary to repair and replace. We thank you for all of the time you spent with and for us, and we hope that your commission was adequate compensation for all of the time you spent on our behalf. We could not have done this without you! Best Wishes. Ken and Linda Blumer" [Ken and Linda purchased an ocean view Condo on Mandalay Shores]
"Karen is great! She is helpful, efficient, resourceful and very nice. She is an authentic, real, unpretentious person who will be on your team to find the home you are looking for. We are very happy with her service and the home we got. She believes in customer service and it shows. Chris Bentley & Melissa A. Rubin" [Chris and Melissa purchased a boat dock home]
"Karen has a great attitude and passion for her work ,and it shows. She is great with communication and took the time to fully understand our situation, needs and expectations. Our overall real estate experience with Karen Taussig Realty was a pleasure from the moment we met to the day we took ownership of our "dream home" property. Thank you Karen!" [Mike and Ellen Bronkowski purchased a home in Victoria Estates]
"Karen is great. My wife and I will recommend her services to anyone. We were initially drawn to Karen as an agent because she represents buyers only. However, we were immediately impressed with her knowledge of the market, her patience with us as we tried to figure out what we actually wanted, and the no-pressure relaxed manner in which she conducted business. We went through the gambit; condo's, townhomes, stand- -alone houses, gated communities, etc. We finally located our very own 'bungalow by the beach' that suits us perfectly. Karen helped to make this a rewarding experience and a most enjoyable journey. Thank you Karen." [Dave and Shaio-Hung purchased on Silverstrand in Channel Islands Beach]
"My husband and I are settling into our dream home, but it would not have been possible without Karen's help. She is just wonderful to work with and has the patience of an angel. We did not know what we wanted and kept changing our needs and wants...not to mention location. But that just didn't phase her! She just kept showing us homes and let us take our time until we found "the one". We can't recommend her enough!" - Phyllis and Jerry [Clients simultaneously sold their home and purchased a new home in a gated community in Camarillo closer to the Country Club where Phyllis got a HOLE-IN-ONE!!]
"It was over two years working with Karen, when finally she found the PERFECT house for us. Karen was very patient – if she hadn't been, we might have missed our window of opportunity. She was very thoughtful in her communications. When we met she was enthusiastic but not pushy about any of the listings. We always felt that she was leaving final decisions to us. Once we made our decision, she was on top of the listing realtor, the escrow company, the inspectors, etc. You can not find a more dedicated team member on your dream quest. We highly recommend Karen Taussig Realty to find you the home you want." Laura Balverde Sanchez [Laura purchased an ocean view home in Anacapa View Beach Homes, a gated community in Port Hueneme, as a weekend home for her extended family]
"I was fortunate enough to meet Karen and liked her immediately. I told her what I was looking for and the process started. She guided me every step of the way and was always available to answer the many questions I had. She found the perfect home for me and I couldn't be happier! If you're looking for a realtor in the Oxnard/Channel Islands area I would highly recommend Karen - she's professional, down to earth and she will make you feel like you're her only client. Long story short...she's the best!" Jan Bjelke [Jan Bjelke purchased a water view Condo in Channel Islands]
"Karen is the ultimate professional...She stuck with us through multiple searches...Guided us through the tricky parts and ultimately helped us purchase a beautiful Beach home on Hollywood Beach...Thank you Karen" - Zoe [Denis and Zoe Biggs purchased a second home on Hollywood Beach]
"My wife and I recently closed on a beachfront second home in Oxnard, CA. Our real estate agent was Karen Taussig, Karen Taussig Realty, Inc. The listing was a short-sale and contained many of the typical complications involved in such a sale. Karen professionally helped us navigate through the various problems and was extremely responsive to our many inquiries along the way. If you're looking for an agent that will respond immediately, night or day, to your questions or concerns, I would recommend Karen to serve your real estate needs." Gary E. Rogness, Santa Clarita, CA [Gary and Shirley Rogness purchased a second home on the sand on Mandalay Shores]
"I would like to extend to my Realtor, Karen Taussig my sincere gratitude for her assistance, time & energy in helping me purchase a beautiful townhouse in Mandaray Bay Beach in Oxnard. From the time I met Karen at Coffee Bean cafe at Seabridge I was impressed with the understanding, demeanor & enthusiasm that Karen displayed. She showed me many condos, townhouses & homes and answered all my questions. When I went to Mandalay Bay Beach area with her - BINGO - I saw the townhouse that I fell in love with. Karen handled everything involved with entering and closing escrow. Karen kept a close eye on what was going on and responded to my numerous telephone calls to her to ensure that I was satisfied. I would recommend Karen Taussig as a very responsible and caring Realtor. Five (5) Stars for her performance!" - Reiko Duba, Happy customer [Reiko Duba purchased a Condo in Westport at Mandalay Bay in the Seabridge community]
"Dear Karen, Thank you for working so diligently to find Amy and me such a wonderful home. Your effort on our behalf is greatly appreciated. Your strategy on our attractive "bid" was pure genius. Your willingness to walk and talk us through each step of the process will be added to the story of our family journal highlights. Your persistence made our dreams come true. It wouldn't have happened with any other agent. WE love YOU!!! -Forever grateful." Bill and Amy Bettinger [Bill and Amy Bettinger purchased in a gated community in Oxnard]
"Thank you for helping us find our beautiful home. We have great neighbors and we are so happy here. We really appreciate all the time you took helping us. I hope we can have you and Lynda over sometime for a barbecue. Thank you for everything and also for taking such good care of my mother." -Lida and Brandon [Lida and Brandon Sportel purchased in Ventura]
"My husband and I were looking for a home in Camarillo. We were very fortunate to find Karen to help us in our endeavor. We are seniors and wanted an area in which we would feel safe and be close to shopping areas. Karen found a home in a gated community near the hospital and shopping areas just what we were looking for. What we liked about Karen was that she took her time to take us to properties that suited our needs." Bonnie Breault [Ron and Bonnie Breault purchased a single story detached home in a gated community in Camarillo]
"Karen & her team were knowledgeable, professional & patient with me during my search for a new home, especially since I was relocating from another area. She talked me through several bids in a competitive market before landing a great home that took some time, but was well worth it. I landed a great place in an awesome area." -Beckie Duke [Beckie Duke purchased in Newbury Park]
"Karen is ethical, professional, considerate, understanding, flexible, and a hard worker! She searched day and night, thru every listing to find us the perfect fit. Even with the difficult criteria we asked for. ....she is our "House Angel". We highly recommend the "House Angel" when you're looking for your next home. She found us our home in a comfortable Gated Community, we call it our Story Book Beach House. Less than a 5 minute walk to the beach without the sand in your door. Call Karen, she's wonderful! Mahalo Karen!" Aloha, Kalani & Ruel [Kalani and Ruel purchased in Port Hueneme by the beach]
"When I first hooked up with Karen, I wasn't even quite sure which town I wanted to buy in (much less the specifics of the structure that would be right for me to purchase)...Karen went the extra mile helping me as I struggled with all the red-tape... Yes, I would most definitely recommend Karen." - Gary White [Gary purchased in a 55 plus community in Camarillo]
"I sent a request to look at a house in Oxnard over the internet. Karen contacted me and said she could meet me right away to show some houses. From then on she was very accommodating to our schedule and last minute requests. She is professional, knowledgeable; she is not pushy or obtrusive. She is very patient and will give you plenty of room to think things through or go back to the houses that you like. She made our house hunt a fun and enjoyable experience. My husband and I definitely recommend Karen!"- Boon Lott [Boon and Darryl purchased a second home in Ventura]
"We had the pleasure of working with Karen on several purchases regarding investment properties. Having purchased and sold a number of properties over the last 30 years, we can honestly say that working with Karen on these properties were
some of the easiest and smoothest transaction
s! She is very interested in exactly what we were looking for as investors and was willing to assist us in obtaining the properties we wanted. She also facilitated retention of existing long time renters in one of the properties insuring we continued a passive income stream from day one!
We have no reservations about recommending Karen for all of your real estate needs and know that she will work as hard for you as she did for us!
Deborah & Daniel" [Deborah, Daniel, Naoum and Dawn purchased an ocean view condo]


"Dear Karen, Thank you for being so kind, patient, & HONEST with us as we searched for our dream beach house! We couldn't have done it without your help and expert advice. We are now enjoying the beautiful & peaceful views of Oxnard Shores! One happy family. Many Thanks, Sandi & Tom Goosen-Brown"

"
Over the years my wife and I moved around the country and bought (and sold) several homes. In
completing these transactions, we had been represented by many realtors both in California and on the
East coast. In our opinion, Karen Taussig is among the best.
We were looking for a
Realtor who only represented Buyers and we chose Karen. Karen patiently showed us the available
houses in the area sometimes bringing us back for second looks. After we decided on the house we
wanted to buy, we found Karen to be immediately responsive to our numerous questions about the
closing, document interpretation, and coordinating the final walk-through. She was always available
and understood our needs and worked tirelessly to bring the concerns we had to a favorable resolution.
Not only did Karen patiently guide us through the intricacies of the purchase, but we especially found
her outstanding in her after-purchase support. We lived about 100 miles away from our new home and
Karen offered to come to our new home and be there for the final inspections, locksmiths, carpet
cleaners, painters and kitchen cleaning crew. She saved us from having to make several round trips
while we were busy with hiring movers and packing. Indispensable, and much appreciated, support one
doesn't often find among most Realtors.
We highly recommend Karen Taussig.. -
Jerry Finn" [The Finn's purchased a one-story pool home on a golf course in Thousand Oaks]